Why I MSNR: Mitchie Neel
March 12, 2020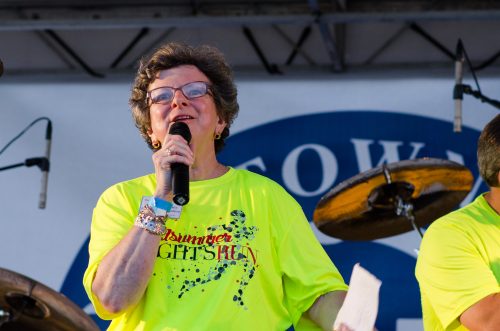 Magical. When I think back on last year's Midsummer Night's Run/Event, that's the word that comes to mind!
So many different things happen on Run night! We kick the night off with the 5K, which is amazing to see…..from those in the race that are truly serious about running (fast times) to those in the race who walk the course (not so fast times) who are there because they want to help our students!
Close behind the 5K is the Kids Fun Run! You haven't lived until you've had the privilege of putting a medal on a child as he or she crosses the finish line! What a treat to be one of those people! Then, the fun REALLY begins! Total A$$et$ cranks up the music from the stage and soon your toe is tapping and you find yourself singing along! The Jim-N-Nick's BBQ tent opens and a yummy supper is enjoyed! Over in the Kids Fun Zone there are huge smiles on kids' faces as they enjoy all kinds of kid entertainment activities!!
There are equally huge smiles on the adult faces as they realize just how good a Steel City Pop truly is! Our community from all over the county comes together on this night to enjoy a night of fun brought to us by Hometown Bank!! As I walk around the event it is so much fun to see folks from all over Blount County and beyond as well!!
As we share the fun of the evening, my mind wanders to all the great support the proceeds from the event will make happen for our students and teachers – classroom resources, summer learning programs, technology, and so many other academic projects of OFFER and Blount County Education Foundation!!!
The night ends with a spectacular fireworks finale as the faces of those present turn toward the heavens and enjoy one more activity together!!! Magical. Yes, magical is the word!
Why don't you come too this year? Be sure to find me and say "hi!"
You can sign up to join the Midsummer Night's Run at https://runsignup.com/Race/AL/Oneonta/MidsummerNightsRun